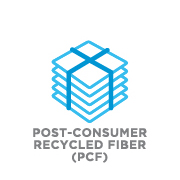 What exactly is it?
Post-consumer fiber (PCF) is paper material that has been thrown away and recycled after someone has used it. It was once the paper that contained a memo, book report, catalogue, instruction manual, or even that pesky parking ticket. After this paper was not longer useful, someone happily recycled it, making it possible for most of those paper fibers to return to you as an Eco-Products hot cup or container.
Why we use it?
Our Evolution World™ hot cups are made with 24% post-consumer recycled fiber. That means that 24% of the paper used to make these cups has already had another life as something else. This paper was sent through the recycling stream, and recycled into FDA-approved foodservice grade paperboard for Eco-Products to use in our products. Why only 24%? Well, that is currently the highest percentage of post-consumer fiber in foodservice grade paperboard available to us today. We are working to increase the amount of recycled content we offer, but for now, we bring you products with as much recycled material as possible.
What's cool about it?
Products made with post-consumer recycled materials ultimately rely on fewer virgin materials. In the case of recycled fiber, this means that less virgin paper goes into the product, more recycled paper cycles through the market, and fewer forests must be cut down to feed the demand for virgin paper. Post-consumer recycled items have the added benefit of helping stimulate demand for post-consumer recycled paper, thus helping support the recycling markets here in the United States.
What is not so cool about it?
While only 24% of the cup is recycled, the rest is virgin paper. It is challenging to get FDA approval and the strength and performance attributes in foodservice products when we add more post-consumer fiber. We are confident that one day we can bring you a higher amount of recycled material in these items, but for now we are a head and shoulders above the industry standard. Also, because these products are lined with a leakproof polyethylene barrier, many municipalities are simply not able to separate the lining from the container, and therefore cannot accept and recycle these type of foodservice items today. We are hoping that this changes everywhere soon because some lucky cities are having success recycling these items. Eco-Products encourages you to contact your recycling facility to see what is accepted in your area. Ask about our BlueStripe™ products and learn where your recycling goes.